EDGE OF THE WORLD ADVENTURE
This incredible 9-night experience will transport you through eleven occupied islands of the Outer Hebrides and immerse you in the layers of history that go back to five thousand BC. We will introduce you to mouth-watering local produce, treat you to unspoilt beaches and endless vistas while awakening your curiosity to this incredible archipelago. You will discover that time here goes slow, there is no rush and the first pleasure of the day comes from waking after a beautiful sleep with the sound of the ocean to greet you.
These incredible islands lie a mere thirty miles from the nearest point in Scotland, yet seem another world away. They consist of over one hundred islands of which eleven are still occupied. On these islands live a people who for centuries have clung on to a traditional way of life and an ancient Gaelic language that has almost become extinct in the modern world.
The Outer Hebrides are jewels of nature with an ancient history spanning more than eight thousand years. The environment is pristine, the air is pure and the skies are huge. The west coast is adorned with stunning powder-white beaches and deserted islands glimmer and beckon through the summer haze.
Yet these islands are so much more, this is a place where silence allows you to connect with the soul of the land, where time slips by so slow in the endless daylight of summer and where the heart gently beats and the outside world becomes a distant memory.
The Outer Hebrides are the most precious gems of nature.
​
9 nights stay in family-run accommodation
10 breakfasts
10 lunches (some picnic)
9 dinners
Fully guided and private vehicle
All cross-island ferries
All excursions and entries to included attractions
Personal water bottle
Airport meet and greet and return drop off.m
​
​
​
​
​
9 nights stays in small family run traditional accommodation, Scottish breakfast, 9 lunches, 9 dinners, fully guided and private vehicle, airport pick up and drop off and includes all excursions and entrance fees.
The Outer Hebrides lie in splendid isolation to the far west and thirty miles beyond the mainland coast of Scotland. They claim to be closer to Iceland than to London, and historically their Norse heritage is hard to ignore.
These islands fringed with stunning powder-white beaches, some that span as far as the eye can see and beyond. It is a pristine environment that remains one of our most cherished destinations.
​
Highlights we will discover along the way : Archaeology, whisky, history, wildlife, beaches, moorlands, ,birds of prey, remote islands, history, whisky, gin, inter island ferries, Gaelic language, wildflowers, walking, coastlines,
We love this adventure as it takes you through 13 islands and reveals each day the remarkable world of an island and its people. With your native Gaelic speaking adventure leader, the Hebrides will gently unveil its peaceful world.
Everywhere you look big skies, and endless horizons greet you on every turn. Almost endless daylight gives us plenty of time to explore at a leisurely pace and the end of the day, relax in tranquil accommodation on the edge of the world.
9 nights Bed and breakfast

9 lunches

9 dinners

Private vehicle

Fully guided

Inter Island Ferries

Entrances to included attractions

All gratuities

Airport pick up and drop off

Personal reusable water bottle
Islands on there Edge of the World Adven
8th May 2021

22nd May 2021
5th June 2021

19th June 2021
3rd July 2021

17th July 2021

31st July 2021
Itinerary
Day 1- Arrival Day (Lewis)
---
Today you arrive at your destination Stornoway on the Isle of Lewis. You will be met at the airport by your guide and taken to your first night's accommodation in the small harbour town of Stornoway. After settling in, we head out into the coastal town for a familiarisation walk and stop in at a local pub to toast your arrival—dinner tonight in a local restaurant and the start of our Hebridean Adventure. 1 night accommodation Dinner/Breakfast
---
Day 2 - To the Land Beyond (Lewis)
---
Following breakfast, we board our vehicle and make our way out across the vast moorlands of Lewis towards the Callanish] Standing Stones. These ancient megaliths predate Stonehenge and were only discovered in the 19th century. Following Callanish and a few extra stops to take in the views we make our way for lunch in the beautiful area of Uig, where we will be based for two nights. We check in to our quaint accommodation by the shore and have some free time to explore the incredible Uig Bay. Dinner is served early evening to give you plenty time afterwards to wander in this tranquil area and take in the endless summer light of the Hebrides before a well-earned sleep.
2 nights accommodation All meals
---
Day 3 - Blue Lagoon, Wildlife & Coastlines (Lewis)
---
After a lazy breakfast we get kitted out in waterproofs to head out on our private boat for a journey into the Atlantic to an incredible place called Pabaigh Mòr and the Blue Lagoon . On our return we toast the Hebrides with a fine dram before heading off for a local lunch. After lunch we seek out where the famous Lewis Chessmen were discovered in the 19th century, before taking a beautiful walk out onto the Lewis coastline and see incredible sea stacks and cliffs, and weather permitting, some sea eagles high above. We head back to our nights rest to relive the tales of the day and another sumptuous Hebridean dinner.
---
Day 5 - Castaway for a day (Isle of Harris)
---
Waking in the morning looking out to the ocean and having a beautiful breakfast sets us up for the day. Boarding our boat, we head into the stunning Sound of Taransay and the Atlantic to visit one of our favourite islands Taransay. We step ashore in the footsteps of TV Presenter Ben Fogle who along with other castaways came here in 2000 for the Castaway series. Since then Ben has returned often to these islands and declared his love for Taransay. Free time to wander on the island and learn about the ancient settlements from the Bronze age to the Viking time. Lunch comes in the form of a picnic (weather permitting) before more free time to walk the powder-white beaches and stand in awe at the incredible scenery. Late afternoon we head back to our accommodation before bidding farewell to our boat and skipper. We then prepare for another splendid dinner before settling into reminiscing the day's wonders.
---
Day 6 Tweed, Gin and a Ferry Journey ( Harris & North Uist)
---
After a relaxed breakfast, we make our way toward the west and across to the low-lying southern isles of the Uists. Along the way, we learn of the whaling industry before stopping off in the very picturesque small village of Tarbert. We get ready to try some fantastic Harris gin and sample a glass or two of the goodness. Some free time in Tarbert to wander the small street and browse the local shops. Our next stop is the glorious Seilebost and world-famous Luskentyre beaches. On our way, we will stop off in a Harris Tweed loom shed and learn all about the ancient art of Tweed making. Lunch will be in a local restaurant overlooking the Atlantic. Before we embark on our ferry journey across the Sound of Harris, we will stop at St Clements, the only Medieval church in the Outer Hebrides and a chance to catch up on some clan history. We board our ferry for the beautiful sailing across the Sound of Harris to finally land on the small island of Berenray and make our way to our next place of stay in a rural lodge.
2 nights accommodation All meals
---
Day 7 - Highland Cows, Machair walks and Wildlife (North Uist)
---
Breakfast done we set out on our discovery of North Uist and visit ancient burial chambers, standing stones and souterrain before heading westward to meet the Highland cows. This is the largest herd of Pedigree Highland cows in Scotland and you will get a real introduction to the lives of incredible animals from the local farmer.W e then head for a local lunch before heading out to one of the coastal nature reserves and coastal walk to take in the glorious white powder beaches of the Uists. Further on we take a stop at one of the most stunning beaches on North Uist for a wee dram and snack before making our way to try and spot otters and wildlife. Dinner in local restaurant
---
Day 8 - Boat building, Seafood, Bonnie Prince Charlie (Uists & Isle of Barra
---
After another relaxed morning before we set off on our island-hopping adventure, today we will explore six islands and give you a real feeling of life on these remote fringes of the Atlantic Ocean. We visit Grimsay, the boat building island of the Uists, where for over two hundred years local boat builders built the traditional Grimsay boat. Along the way, we'll visit a traditional fishing harbour and pop in for a light seafood lunch before heading "up south." Moving on we pass through another beautiful nature reserve, visit a fabulous museum and step out onto Traigh a' Phrionnsa, the very beach Bonnie Prince Charlie landed in 1745. Late afternoon we board the small ferry boat and make our way to the stunning island of Barra, where we'll spend the night.
2 nights accommodation
All meals
---
Day 4 - Sea Cliffs & Deserted Island (Isle of Harris)
---
AAs we bid farewell to our tranquil abode for two nights, we once again board our private boat and head out into the Atlantic and explore the rugged, dramatic Lewis and Harris coastlines. We move further west witness the magnitude of the landscape and the spectacular sea lochs that seem to split the land in two. We then land on our abandoned island and walk through the deserted village and take a stroll to the higher points to take in the view. Lunch will be ashore (weather permitting) before some free time to enjoy your time on this beautiful place. We set sail mid-afternoon for the short journey to our next accommodation and an authentic flavour of grandeur in the Hebrides. 2 nights accommodation
All meals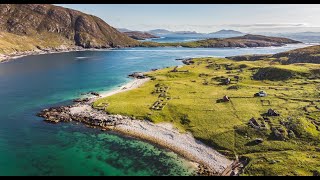 ---
Day 9 - Machair , beaches and a medieval castle
---
After a later start, we head out to explore the stunning island of Barra. The Ilse of Barra is the most southerly occupied island in the Outer Hebrides. Our journey takes us along the stunning west coast and a chance to look for seals before heading out onto the Machair for a gentle walk amongst the flowers and to take in some impressive views. We then make our way to the small harbour port of Castlebay and some lunch before free time to wander on your own or head out on the shortest boat journey in Scotland to a medieval castle and home of the Clan Chief MacNeil. Mid-afternoon we then take the small road to Vatersay and explore this beautiful place before heading back for a bit of free time before dinner. Our final night in the Hebrides will see us toasting and dining looking over the Atlantic.
Should there be a Day 10 – off to the airport after breakfast?
---
Day 10 - Tour Ends
---
Today is the day we all depart and depending on when the plane is leaving we have a relaxed time enjoying the final views of these islands. Your flight then leaves from the only beach airport in Europe and as you board your small plane to Glasgow you will be able to fly low over these islands and bid farewell. Journey time to Glasgow is aproximatley one hour. Airport drop off included
---
---
Please Note
​
While we strive to deliver everything that is in our itinerary, there are occasions when in the Iceland we may need to cancel boat trips or other activities at short notice owing to the weather. While this is unfortunate it is part of the course and we will do our utmost to reschedule or find an alternative activity to replace it.
Not Included
​
The price for this adventure does not include
Domestic flights to the Hebrides from
Glasgow or Edinburgh
International Flights

PersonalTravel Insurance
​
We are pleased to provide any further information required at time of booking or email us with any queries
​
​
​
​